Direct mail has been, and will continue to be, a core product we recommend because it provides a great ROI for any home service company. We can target many specific demographics and geographical areas…it's hard to miss. 
Plus, you get true results and can see proof of delivery with our exclusive reporting platform. Now with the Duffy Mail Integration (DMI), our direct mail campaign ROI's have jumped to all new levels because we can layer in the impressions using the online products we offer. 
Here are different types of direct mail campaigns we can execute one-off or as part of our overall, year-round marketing strategy.
4 x 6 Appointment Reminder Postcards
This neon orange postcard has proven effective in the mailbox for decades. Send to your inactive and cold customer base to reactivate and retain!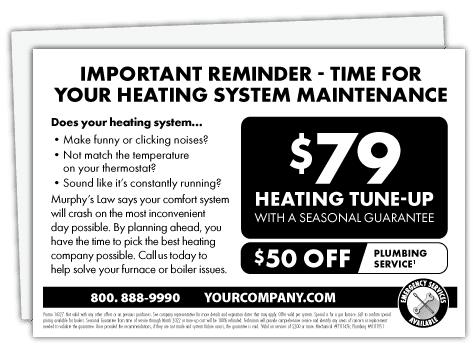 Target specific customer segments with custom-driven messaging to increase sales, service or repairs with a sizeable and notable postcard.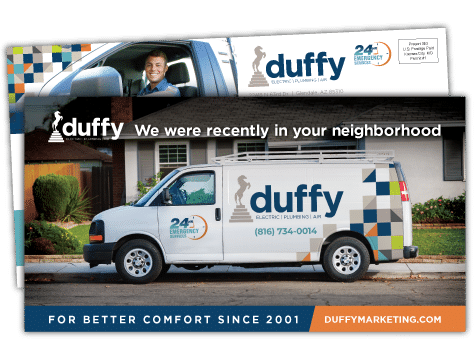 Gift Card "Punch-Out" Postcards
Send offers with an extended shelf life for consistent sales and customer acquisitions year-round. These punch-out postcards are plastic for durability, have a high return on investment, and can print with variable text to send an even more personal message to your customers and prospects.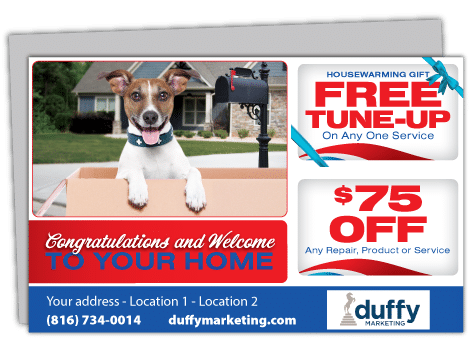 What a great way to target homes you've been in with the previous homeowner and homes your customer moved to you haven't serviced yet! Same as the gift card punch out postcards, these highly targeted direct mail pieces work smarter and not harder to help increase that market share you need to grow your business.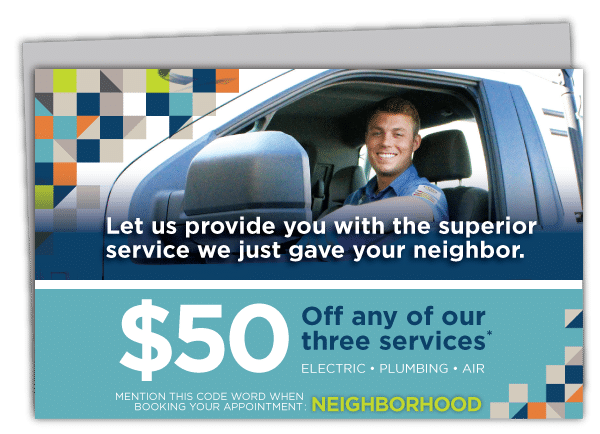 Give them something they'll see every time they open the refrigerator! With this handy mailer, your customers will feel appreciated (and reminded) you are here to help them daily.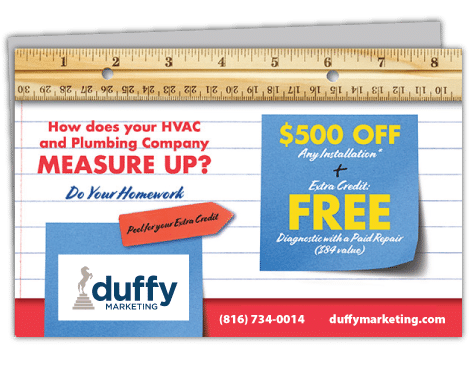 Newsletter &
E-newsletters
If you're not talking to your customers regularly with information they need, someone else will! Our proven and highly sought-after newsletters are a great segue to pick up the pace and send special messages to your fanbase. They include tips, tricks, trivia, recipes, and custom content specifically to drive sales in the departments you need the most.
Seasonal Replacement Sale Letters
Increase your brand awareness while giving homeowners the true "What's In It For Me?" experience. A letter provides adequate text given in concise detail all the benefits you can provide your customer or prospect while still utilizing free gifts, discounts, and bonus incentives.
Custom Mailers Designed For You
Duffy Marketing can help you make your dream direct mail piece possible. We take the problem and turn it into sales and smiles through our decades of industry experience. Your sales tactics and goals are attainable. Let Duffy Marketing Services fill that missing puzzle piece!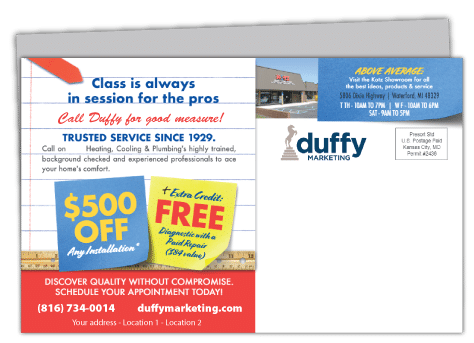 Do you have marketing, sales or training experience in the home services industry? If so, you might be a great fit for our team. Click below to send us your resume.
© 2023 Duffy Marketing Services, Inc. All Rights Reserved.