Every contractor should be doing the basics using their entire team to grow the company and earn new customers. Without direction, most contractors just do one-off marketing instead of using a proven system and portfolio of tactics to have the best impact in your targeted neighborhoods.
Trust Duffy Marketing to work with you to develop your custom logo'd solutions and we can even help train your team on how to execute this multi-layered program. This program includes, but is not limited to these items:
Business Card Distribution
Referral Program
Promotional Flyers
Yard Signs (and contest)
Door Hangers
Neighborhood Postcards
Logo'd Pens & More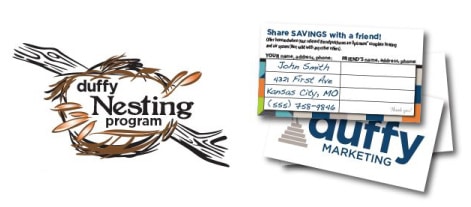 Do you have marketing, sales or training experience in the home services industry? If so, you might be a great fit for our team. Click below to send us your resume.
© 2023 Duffy Marketing Services, Inc. All Rights Reserved.